In a strong condemnation of the recent incident at the Glasgow Gurdwara, where Indian High Commissioner Vikram Doraiswami was barred from entering by Khalistani extremists, the Gurdwara management issued a statement denouncing the disruptive behavior and reiterating its commitment to welcoming people from all backgrounds.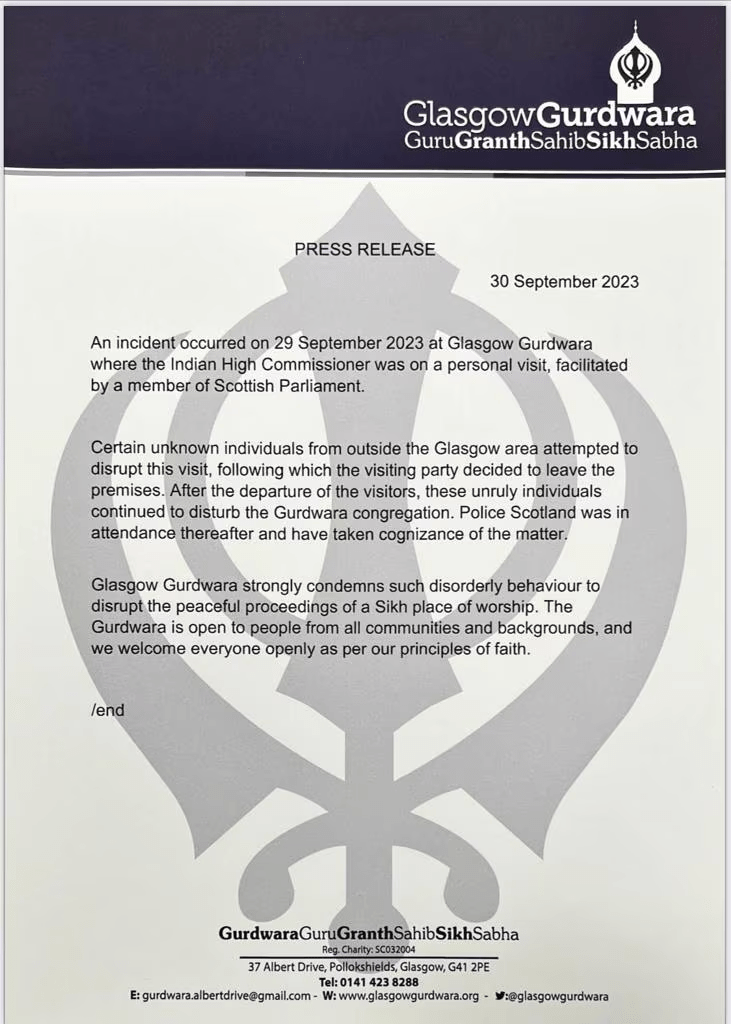 The incident, which unfolded on September 29, 2023, has sparked outrage and concern. A member of the Scottish Parliament had facilitated the Indian High Commissioner's personal visit to the Glasgow Gurdwara. However, a group of unidentified individuals from outside the Glasgow area attempted to disrupt the visit, forcing the visiting party to leave the premises.
Expressing their dismay over the incident, the Glasgow Gurdwara Guru Granth Sahib Sikh Sabha stated, "Glasgow Gurdwara strongly condemns such disorderly behavior aimed at disrupting the peaceful proceedings of a Sikh place of worship." The statement emphasized the Gurdwara's dedication to inclusivity, reinforcing that their doors are open to people of all communities and backgrounds.
A video of the incident has been circulating on social media, depicting a man obstructing the Indian High Commissioner from entering the Gurdwara. Additionally, two individuals were seen attempting to open the door of the High Commissioner's car in the parking area before the car left the Gurdwara premises.
The Indian government has taken a firm stance on this incident, describing it as "disgraceful," and has raised the matter with the UK government. Junior UK foreign minister Anne-Marie Trevelyan expressed her concern, stating, "The safety and security of foreign diplomats is of utmost importance, and our places of worship in the UK must be open to all."
The incident at the Glasgow Gurdwara highlights the need for tolerance, inclusivity, and the respect for diplomatic immunity. Places of worship have always held a special place in communities, offering solace and a sense of belonging to people from various walks of life. The disruption of such sacred spaces not only undermines the principles of peace and unity but also damages the reputation of those responsible for such actions.
Khalistani extremism is a sensitive issue, and it is important to differentiate between the actions of a few individuals and the beliefs of an entire community. The Glasgow Gurdwara's prompt condemnation of the incident sends a clear message that such actions are not representative of the Sikh community's values.
As investigations into the incident continue, it is crucial for both India and the UK to work together to ensure the safety of foreign diplomats and maintain the sanctity of places of worship. In times of uncertainty and division, fostering unity and harmony among diverse communities is more essential than ever, and incidents like this serve as reminders of the importance of upholding these principles.