In a landmark diplomatic exchange, US Secretary of State Antony Blinken, Defence Secretary Lloyd Austin, along with their Indian counterparts, External Affairs Minister S Jaishankar, and Defence Minister Rajnath Singh, convened in New Delhi on Friday for the US-India 2+2 Ministerial Dialogue. The high-level meeting delved into critical facets of the strategic partnership, defense collaboration, and the evolving Indo-Pacific landscape, showcasing the commitment of both nations to fortify their multifaceted relationship.
The dialogue, an annual fixture since its inception, traversed a broad spectrum of issues, including defense and security cooperation, Indo-Pacific strategies, and people-to-people ties. Secretary Blinken, expressing enthusiasm, articulated that the 2+2 dialogue presented an opportunity to propel India-US relations to new heights.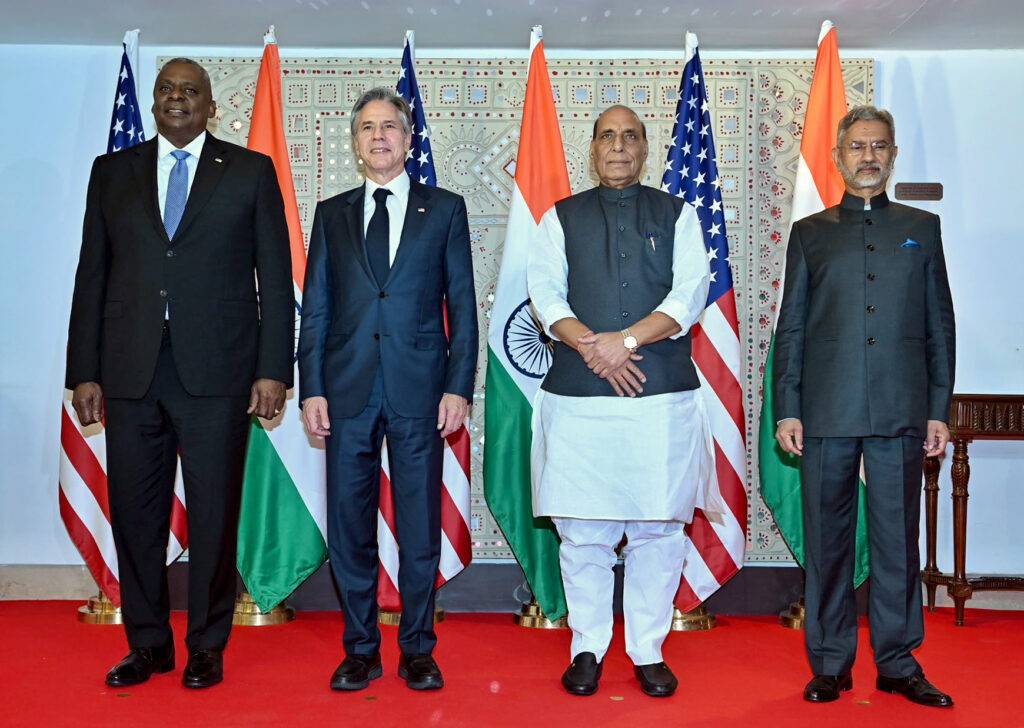 Harnessing the power of innovation was a focal point of Blinken's remarks, emphasizing collaborative efforts in semiconductors, advanced biotechnology, and clean energy deployment. He underscored the importance of deepening ties between the people of both nations, advocating for expanded educational exchanges, eased travel restrictions, and reduced visa wait times.
"When Indians and Americans study together, work together, and collaborate together, the possibilities for progress are infinite," Blinken asserted.
Reflecting on the ambitious agenda set during Prime Minister Modi's visit to the White House in June, the US Secretary of State highlighted concrete steps taken to realize the comprehensive strategic partnership envisioned by the leaders of both nations. The United States, he noted, is actively promoting a free and open Indo-Pacific, aligning with Japan and Australia through the QUAD partnership.
External Affairs Minister S Jaishankar echoed Blinken's sentiments, emphasizing the importance of building a forward-looking partnership while constructing a shared global agenda. With trade exceeding USD 200 billion and a significant Indian diaspora in the United States, Jaishankar asserted that the discussions would center on the Indo-Pacific region.
"PM Modi's state visit to the United States in June has opened a new chapter in the India-US relationship," he added.
Defence Secretary Lloyd Austin underscored the meeting's timing, citing "great momentum" amid urgent global challenges. Recognizing the impressive gains in building the major defense partnership over the past year, Austin highlighted the importance of the two largest democracies collaborating to address global issues and contribute to peace and stability.
Defence Minister Rajnath Singh emphasized the pivotal role of defense in the bilateral ties, noting a growing convergence of strategic interests and enhanced defense, security, and intelligence cooperation. Singh emphasized the criticality of the partnership in ensuring a free, open, and rules-bound Indo-Pacific region.
"The 2+2 dialogue remains a key diplomatic initiative, undertaking a comprehensive review of the fast-expanding India-US strategic ties," concluded Singh.
As the dialogue concluded, it left a trail of optimism, signaling a deepening partnership between the United States and India in navigating the complex geopolitical landscape and contributing to the stability and prosperity of the Indo-Pacific region.