Punjab-origin Satinderjit Singh Brar, also known as Goldy Brar, has been listed among Canada's 25 most wanted fugitives. Brar is the alleged mastermind behind the murder of famed singer Sidhu Moosewala and an affiliate of the notorious Lawrence Bishnoi gang. The Royal Canadian Mounted Police (RCMP) are searching for Brar on charges of murder, criminal conspiracy, and supplying illegal firearms.
The 'BOLO(Be On the Lookout) Program' released an updated list on Monday, with Brar's life-sized cutout prominently displayed at Toronto's Yonge-Dundas Square alongside the other 24 fugitives. The program announced more than $750,000 in rewards for information leading to the arrest of these criminals, with individual rewards ranging from $50,000 to $100,000. However, no reward has been offered for Goldy Brar, who ranks 15th on the list.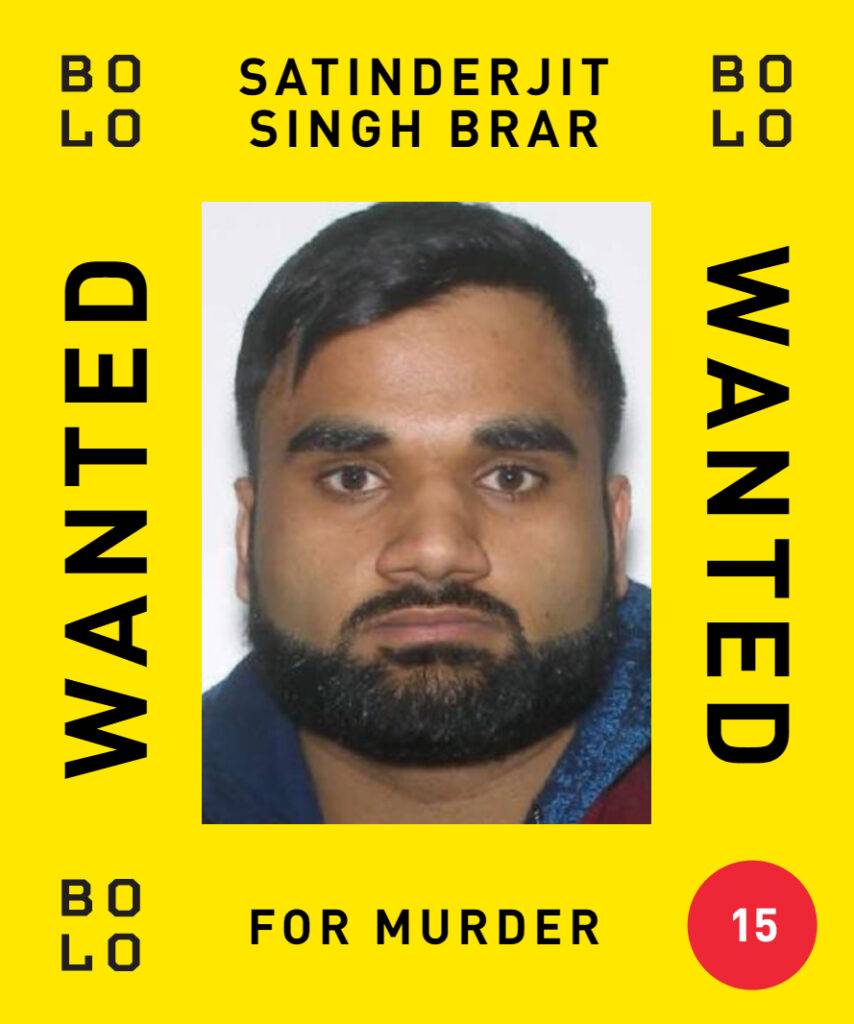 Brar, 29, arrived in Canada on a student visa in 2017 and hails from Punjab's Muktsar. He allegedly claimed responsibility for the murder of Sidhu Moosewala and has been on the run ever since. A Red Corner notice, which permits the arrest of a fugitive, has been issued against him by Interpol.
The Punjab Police hold Goldy Brar and gangster Lawrence Bishnoi responsible for Moosewala's murder in Mansa district on May 29 last year. Brar, a member of the Bishnoi gang, was named in the 1,850-page police charge sheet filed in a Mansa court on August 26 last year. The charge sheet states that Moosewala's killing was carried out in retaliation for the murder of youth Akali leader Middukhera.
Several other individuals, including jailed gangsters Bishnoi and Jaggu Bhagwanpuria, have been named in the charge sheet. The Special Investigation Team (SIT) led by Anti-Gangster Task Force chief Pramod Ban is currently investigating Moosewala's murder.
In December 2022, Chief Minister Bhagwant Mann claimed that Goldy Brar had been detained by the police in California and would be extradited to India. However, a video of Brar later surfaced in which he denied being detained or even being in the United States.
According to a Press Release issued by the Canadian High Commission, New Delhi dated May 2, 2023:
Brar is the subject of a Royal Canadian Mounted Police (RCMP) investigation into the allegations originating from India. The offenses committed in India are very serious in nature and merit the interest of the police in Canada.
Brar is believed to be in Canada and represents a risk to public safety. He is currently under investigation but is not charged with any criminal offenses in Canada.
Brar is accused of orchestrating the murders of Rajat Kumar, of Gurlal Singh, and is also suspected of ordering the murder of Indian rapper, singer, and songwriter Shubhdeep Singh aka "Sidhu Moose Wala" on May 29, 2022, in India. India obtained an INTERPOL Red Notice for Brar in June 2022.
The RCMP is dedicated to supporting its international policing partners and is working closely with Indian law enforcement to ensure that justice is provided to the victims.
Useful Link for Further Reading