A little while ago we talked about the recognition and preference achieved by Punjabi cuisine worldwide, especially so with regard to Punjabi food. And whilst talking about Punjab and its food we cannot refrain from talking about stalwarts like Vikas Khanna, Ranveer Brar, Sanjeev Kapoor, and Harpal Singh Sokhey who have taken the food industry by storm in their individual ways.
What we eat is a part of our cultural identity; What we share is a part of one cultural fabric. Food represents our past, present, and future

Chef Vikas Khanna
Vikas Khanna is an Indian-American chef, restauranteur, cookbook author, and eminent television personality. He was born in Amritsar and has authored 25+ books (including a couple of novels). He has also appeared as a judge on several seasons of "MasterChef India".
One of Khanna's most significant achievements in the culinary world is his role in bringing Punjabi cuisine to the global stage and has received several prestigious awards, including the Michelin Star and the James Beard Foundation Award. He has also been invited to cook for various high-profile events, such as the White House Diwali dinner in 2013.
Being an "Ambarsariya", the tradition of 'Vand Chhakna' is ingrained in him. At his restaurants, he aims to give his guests, "a little morsel of the Golden Temple all the way in New York". Taking the legacy of his city forward, he has been involved in many philanthropic efforts related to food and nutrition. He founded the NGO, "Feed India" in 2020, which aims to feed the millions of people affected by COVID-19 in India. He also works with the Smile Foundation and 'No Kid Hungry' to combat hunger and malnutrition.
'Barkat' is one such inspirational story behind Feed India which traces his journey and captures his experiences in the 'Langars' of Golden Temple. He says," I would just stand there looking at everything and smiling at everyone, understanding the power of togetherness, the power of solidarity".
As a teenager, Vikas discovered a talent for cooking and began earning money by cooking 'dahi-bhallas' and 'Kulchas' for his family. "This was the beginning of all little things coming together," he remembers. 'Lawrence Kitchen' was the name of his first enterprise in Amritsar, which was modelled after a restaurant his grandparents explored in Lahore.
Vikas sees himself as not just a chef but also as an ambassador of Indian food and culture in the West. He describes his book "Utsav" as a culinary food journey of India through food stories. "Food is a uniting force," he affirms.
Vikas Khanna revers food and though his achievements are unparalleled and can be easily documented in pages after pages, it can be said his new book, 'Imaginary Rain', is all about his long-standing passion: food. The chef in him meets the 'author' Vikas Khanna to create the story of an Indian woman in the US and her relationship with food with themes like forgiveness, acceptance, and exploration detailed in a crisp. anecdotal format.
Indian food cannot be now mentioned without mentioning Sanjeev Kapoor in the same breath! 'Khana Khazana', his iconic cookery show made him the most celebrated face of Indian cuisine. Apart from being Chef Extraordinaire, he runs a very successful television channel, Food Food. He is the author of 150+ cookery books and is living his dream of taking Indian cuisine to the top slot in the world.
Bom in Ambala (Punjab) in 1964, he was always bent towards doing something out of the box. While his contemporaries were aspiring to become doctors and engineers, he chose a career in Food which was rare in those days. Describing his journey in the kitchen Sanjeev says, "Don't be the rule, be the exception. As rules chain mind, exception frees it". He certainly was an exception because before him Indian men were certainly not seen in the kitchen! With his charming smile and charismatic demeanor, he has been ruling the hearts and kitchens of India since almost two decades. Think of a reference to a new recipe/dish, the first name that, pops up is Sanjeev Kapoor and 'Khana Khazana'! His recipes never go wrong and his tips are like magic. "Both my parents have been foodies and always rustled up delicious meals while I was growing up. So obviously, my style has also evolved from there", he shares.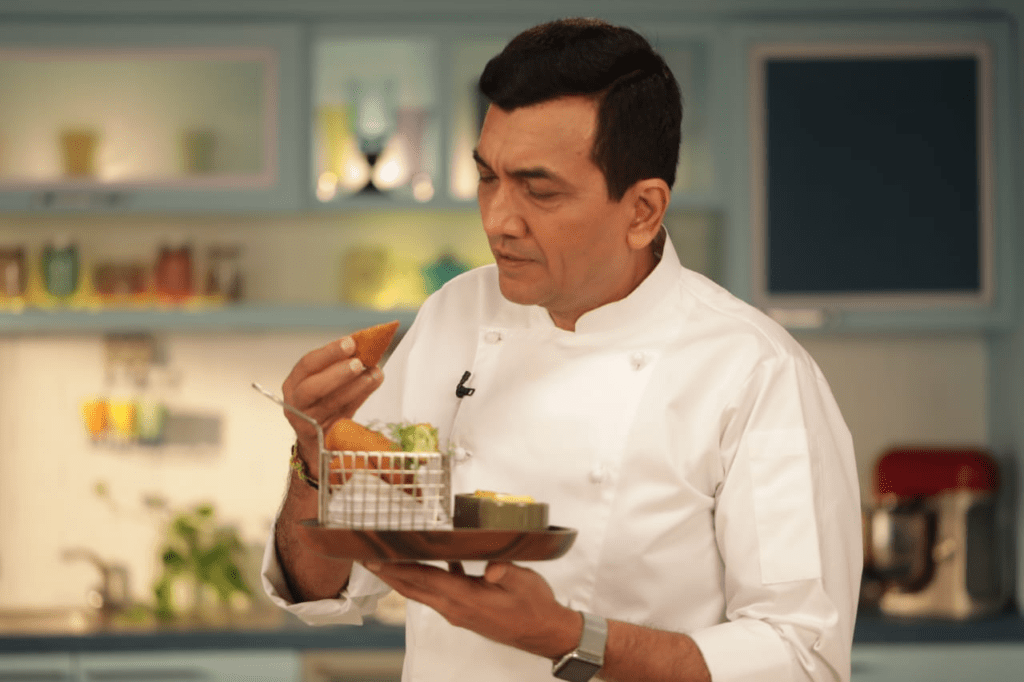 One of Sanjeev Kapoor's most significant achievements in the culinary world has been popularizing Indian cuisine globally by introducing many fusion dishes. He feels that fusion cuisine is New World Cuisine. His invention like 'black grape pani puri', 'gulab jamun cheesecake', and 'chicken sausage samosas', have changed the face of Punjabi cuisine forever! He describes his own cooking style as "spiced with a dash of madness" and admits, "I'm fearless when it comes to experimenting, my approach towards both food and life is to take the bull by its horns."
He has been recognized for his contributions to the culinary world with several prestigious awards, including the Best Chef of India Award (2004), National Tourism Award (2017), and Padma Shri Award (2017). Often dubbed as the Rachel Ray of India, he has featured twice on American T.V. with her, he is on the board of Singapore Airlines International Culinary Panel and has been invited to cook at several high-profile events, such as the World Economic Forum in Davos.
Sanjeev Kapoor is a name to reckon with in the international food scene. He has tasted fame and success that are hard even to fathom but underneath the heavy chef's hat, there is still that boy from Ambala whose favorite dish is rice with 'Chawli ki subzi' (lobhia) for lunch.