Khalsa Vox recently published an exposé titled 'The Khalistan Extremist Movement: Unmasking Terrorism in Disguise.' This report delved into the sinister undercurrents of the Khalistan movement, shedding light on the terrorist ideologies that threaten global peace. Most chilling of all was the recent video posted on social media by Gurpatwant Singh Pannun, in which he openly threatened to blow up an Air India flight on November 19th, 2023. Pannun's video is a blatant act of terrorism and an overt threat to the safety of innocent people. In the face of such brazen menace, there can be no room for complacency.
Khalistan extremists have consistently exploited the concept of freedom of speech as a cloak to incite violence and propagate terror activities. The West has seen the devastating consequences of such extremism before, most notably in the tragic Air India Kanishka bombing of 1985. This act of terrorism claimed the lives of more than 300 Canadians, a stark reminder of the horrors that Khalistan extremists can unleash. Can we, in good conscience, allow such violent threats to go unchallenged? The answer is clear – swift and unwavering action is the need of the hour.
The Air India Kanishka bombing remains etched in our collective memory as one of the deadliest aviation disasters in history. On June 23, 1985, Flight 182 was destroyed in a mid-air explosion, resulting in the loss of 329 innocent Canadian lives. The bombing was carried out by Khalistan terrorists and they inflicted immeasurable pain on the civilians. This heinous act of terror serves as a stark testament to the grave danger posed by Khalistan extremists.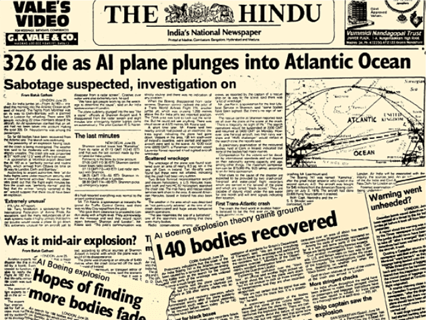 Regrettably, the Air India Kanishka bombing was not an isolated incident. Khalistani terrorists have a history of resorting to extreme measures to advance their agenda. On September 29, 1981, the Khalistani group Dal Khalsa hijacked an Indian Airlines flight with over a hundred people on board, forcing it to land in Lahore. These events underline the persistent threat that Khalistan extremists pose to international security.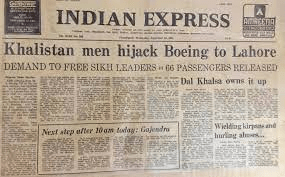 Given this alarming context, it is imperative that we do not take Pannun's recent terror threat lightly. The world must unite in a resolute and coordinated effort to crack down on these violent terrorists who misuse their freedom of speech to incite fear and promote violence.
1/3 I am calling for British, American and Canadian authorities to work together to have this pro Khalistani extremist in handcuffs as soon as possible. Enough is enough.

Whilst the majority mainstream #Sikh population get on with adding huge value to society, here is one of the… pic.twitter.com/cIgRpf9rbO

— Colin Bloom CBE (@ColinBloom) November 5, 2023
Leaders in the West have already begun to speak out against this imminent threat. Colin Bloom, the Faith Advisor to the Government of the United Kingdom, has publicly called for British, American, and Canadian authorities to work together to bring this pro-Khalistani extremist to justice. His words echo the sentiments of countless concerned citizens who demand accountability and safety.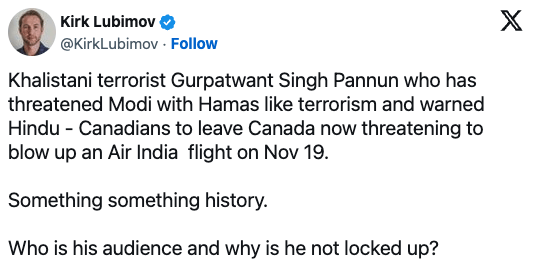 Kirk Lubimov, a Canadian business consultant, has raised a valid question – why has Pannun not been arrested despite making explicit terror threats? The West, with its commitment to the values of democracy and peace, cannot afford to be complacent in the face of such grave provocations.
The opinions expressed in this article are those of the author. They do not purport to reflect the opinions or views of Khalsa Vox or its members.