In a historic moment of triumph, a Sikh individual who defied Marine grooming norms has emerged victorious by graduating from boot camp. Pvt. 1st Class Jaskirat Singh, adorned in a distinctive white turban, stood tall among his fellow Marines in San Diego's U.S. Marine Recruit Depot, celebrating the culmination of their rigorous training. This remarkable accomplishment was announced by the Sikh Coalition, a nonprofit organization, on Friday.
In a press conference following the graduation, Singh confidently asserted, "I'm proud to demonstrate that wearing a turban or beard does not make me any different or less of a Marine, and I intend to prove that in the future."
Singh's groundbreaking achievement echoes his role as a pioneer. The 21-year-old is believed to be the first Sikh ever granted a waiver from traditional grooming standards to participate in recruit training, as stated by the Sikh Coalition. His journey is marked by determination and resilience, with Singh being one of four Sikhs who took legal action against the Marines in April 2022. Their lawsuit aimed to rectify what they deemed as discriminatory practices and denial of religious accommodation requests.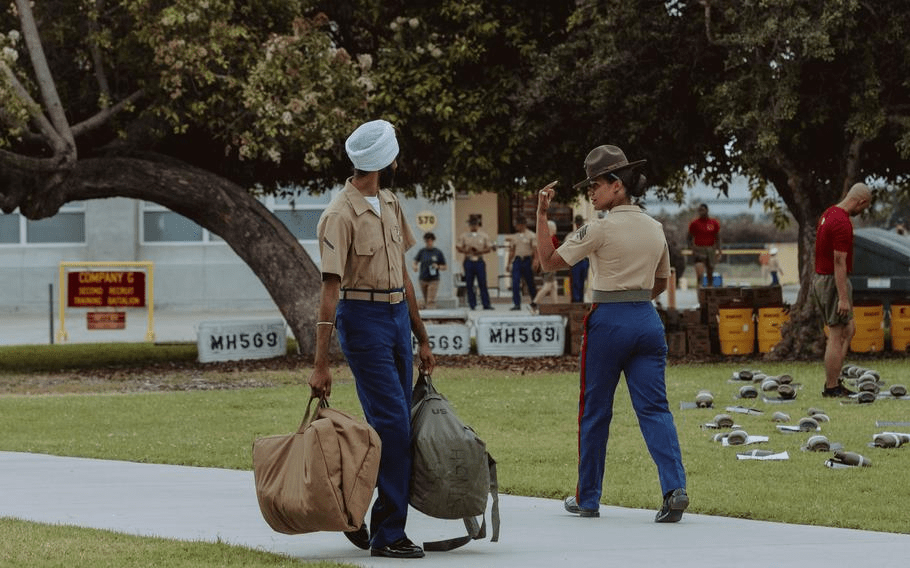 The core contention of the plaintiffs rests on the foundation of the Religious Freedom Restoration Act, which curbs the federal government's capacity to impede an individual's religious practices, even when facing compelling interests. The Marines' refusal to permit the maintenance of beards and uncut hair during boot camp or combat deployment is, according to the plaintiffs, unconstitutional. Notably, the Navy is also implicated in this lawsuit.
Distinctive accommodations for Sikh service members have already been established in the Army and Air Force, while the Navy has undertaken changes for Jewish and Muslim sailors, pending the lawsuit's outcome. In a landmark decision last December, the U.S. Court of Appeals for the D.C. Circuit ruled that the Marine Corps must allow Singh and two other recruits, involved in the lawsuit, to partake in boot camp without adhering to the conventional grooming mandates. This reprieve continues as their legal case unfolds.
Singh's commitment to service, his faith, and his values is a reflection of the shared principles between Sikhism and Marine Corps ethos. He articulated, "For me personally, my understanding of the principles of Sikhism overlaps with my decision to serve my country." He highlighted the significance of this intersection and noted that numerous Sikhs within the military uphold the same interpretation.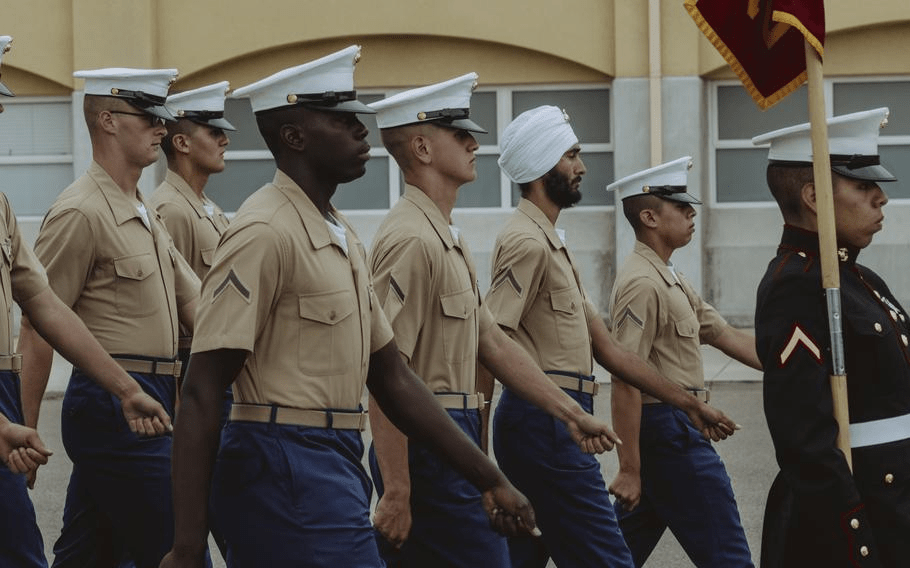 During boot camp, Singh's fellow recruits embraced his presence with curiosity, fostering an environment of diversity and understanding. Commanding officers treated him on par with other recruits, fostering unity and cohesion. Notably, Singh effortlessly fulfilled the gas mask seal requirements during his training, debunking concerns that his appearance could hinder safety measures.
While Singh and his legal representatives celebrate this watershed victory, they emphasize that the court's ruling only pertains to them. They stress the importance of continued legal efforts to ensure permanent accommodation for Sikh individuals in similar positions. Giselle Klapper, Deputy Legal Director of the Sikh Coalition, underscored the significance of policy change: "What we're pushing for … obviously is a policy change so that the next person doesn't have to go back to court essentially to fight this."
In this remarkable saga, Pvt. 1st Class Jaskirat Singh stands not only as a Marine graduate but as a symbol of persistence, inclusivity, and a harmonious coexistence of faith and duty.