According to news reports, seventeen people were arrested in Northern California as part of an investigation into rival criminal syndicates allegedly responsible for a series of shootings at Sikh temples in Stockton, Sacramento, and other locations. The joint law enforcement operation, dubbed Operation Broken Sword, led to the execution of search warrants at 20 locations on Sunday, resulting in the seizure of 41 firearms, including an AR-15, AK 47s, handguns, and at least one machine gun.
The California Attorney General's Office released a statement claiming that the rival groups are believed to be responsible for numerous violent crimes and shootings, including five attempted murders in Sutter, Sacramento, San Joaquin, Solano, Yolo, and Merced counties.
The peaceful Sikh community had been plagued by violence committed by the warring criminal syndicates for several years.

Sutter County District Attorney, Jennifer Dupre
Dupre explained that the violence began with fistfights and sword attacks at a Sikh parade in 2018 and escalated to shootings, starting with one at a wedding party in Yuba City in September 2021. Since then, the groups have allegedly been involved in 10 more shootings, with 11 men shot in total. This includes five men shot outside a Sikh temple in Stockton in August 2022 and two people shot at a Sikh temple in Sacramento last month.
News reports suggest that two individuals charged with murder and attempted murder in connection with a Woodland shooting in December 2022 are wanted in India for multiple killings. Operation Broken Sword was named after an attack in 2018 that was reportedly so violent that the sword broke.
Attorney General Rob Bonta praised the multi-agency investigation for making California safer, stating that no family should have to worry about drive-by shootings or other forms of gun violence in their neighbourhoods. Authorities believe that their operation prevented two additional shootings from occurring.
The investigation, which began in February 2023, was a joint effort among multiple law enforcement agencies, including the Yuba Sutter Narcotic and Gang Enforcement Task Force, Yuba City Police Department, California Department of Justice Special Operations Unit, California Highway Patrol Special Operations Unit, Homeland Security Investigations, U.S. Drug Enforcement Administration, and the Sutter County District Attorney.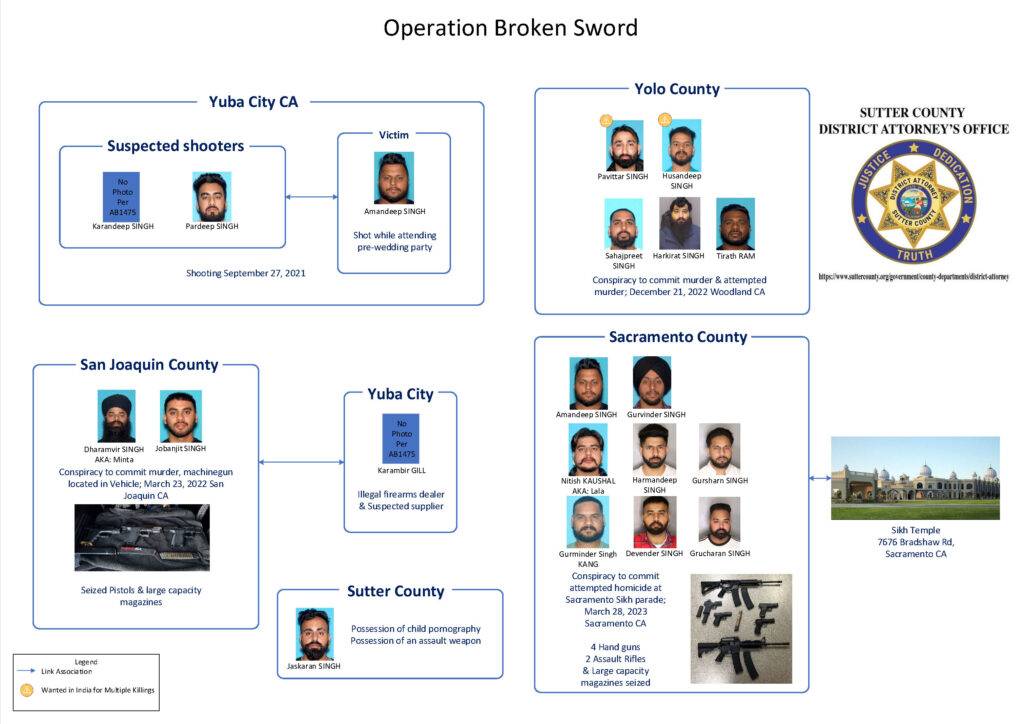 The motivation behind the attacks remains unclear, according to Dupre, who stated that one faction broke off and since then, the groups have been rivals. "Mainly, they show up places and try to shoot each other," she said.
It is important to note that the charges and investigation do not in any way reflect or represent the vibrant Sikh community, which is an essential and integral part of the larger community in the region.

Sacramento County District Attorney, Thien Ho
The impact of Operation Broken Sword has been significant in the fight against gun violence and criminal activity in Northern California. By arresting 17 individuals allegedly connected to rival criminal syndicates and confiscating a significant number of firearms, the joint law enforcement operation has demonstrated the value of collaboration and determination among various agencies.
As the investigation continues, authorities are committed to ensuring the safety and well-being of the Sikh community and all residents of the affected areas. The operation serves as a reminder that a united front against crime is crucial in preventing violence and maintaining peace in local communities.
In light of these events, community leaders and law enforcement agencies are likely to increase efforts to promote understanding, communication, and cooperation among diverse communities. By working together, they aim to prevent future acts of violence and ensure the safety of all residents in Northern California.