Nestled just a few kilometers away from the buzzing Wagah border, the once majestic Gurdwara Patshahi Rori Sahib Jahman lies in a lamentable state of decay. Known for its rich cultural significance in the Sikh religion, this neglected treasure in Lahore now stands as a painful symbol of abandoned heritage.
The Gurdwara Patshahi Rori Sahib Jahman is no ordinary monument. It is steeped in centuries-old spiritual significance and commemorates the life and teachings of the first Sikh Guru, Guru Nanak Dev Ji. The Guru graced this place with his presence not once, but thrice during his lifetime, choosing it as a sanctuary for his prayers while seated on stone pebbles – a memory that gave the Gurdwara its name, 'Rori Sahib'.
A noteworthy facet of this monument, as referenced in Gurbani, was the large pond that once enveloped the structure, providing an air of tranquility to the site. Today, however, this serene body of water has all but vanished, its place taken by tethered cattle and encroachers making dung cakes. The sacred sanctuary has been usurped by the mundanity of daily life, a cruel reminder of its pitiful state.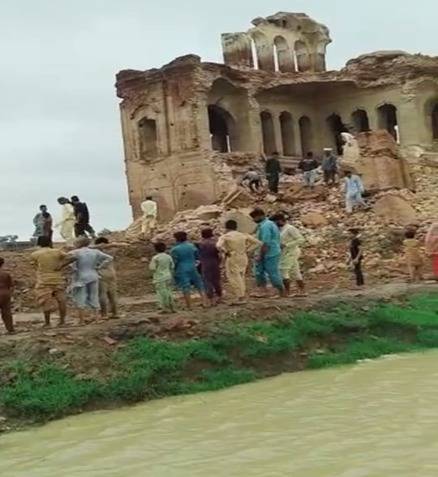 This deterioration didn't happen overnight. In fact, the story of the Gurdwara's decline is a tale of continuous neglect and dismissal. A striking example of this disregard was the recent havoc wreaked by heavy rainfall. The event caused significant damage to the Gurudwara Rohri Sahib Pehli Patshahi in Jahman, a site revered not only by Sikhs but Hindus as well. This monument, located near Burki under District Lahore, withstood the deluge, but its fragile structure, further weakened by neglect, sustained considerable damage.
The Gurdwara, with its sacred pond and the sizable land of 100 bighas, is sadly, an echo of its former glory. The land, which rightfully belongs to the Gurdwara, has become a target for encroachers. This slow invasion, coupled with the lack of maintenance, has led to the site becoming a skeleton of its past.
The pleas of the Sikh community from India for the renovation of this historic site have fallen on deaf ears. Numerous requests made through various channels over the years since partition have been ignored by Pakistani authorities.
The crumbling Gurdwara Patshahi Rori Sahib Jahman stands as a testament to this continuous neglect. It's not just about a physical structure falling into ruins; it's the erasure of a vital piece of cultural and spiritual heritage. This monument's current condition presents a stark reminder of the pressing need for improved cultural diplomacy, conservation initiatives, and the importance of safeguarding our shared history.
The Gurdwara, once a vibrant center of spiritual solace and historical richness, now stands as a ruin. The preservation and restoration of such monuments are not just the responsibility of a single country, but a shared duty we owe to our shared past, our shared cultural heritage. It is our moral duty to protect and preserve these symbols of our shared human history for future generations. Ignoring such pleas for restoration and preservation is a cultural tragedy, one we must strive to avert.