In recent developments, Canadian Prime Minister Justin Trudeau has found himself embroiled in a diplomatic quagmire by accusing the Indian government of involvement in the death of Khalistani terrorist Harjeet Singh Nijjar. This allegation, based on scant evidence, has raised questions not only about Trudeau's judgment but also about Canada's selective outrage when it comes to similar incidents on its soil.
Former Punjab Chief Minister Amarinder Singh has been quick to label Trudeau's claims as "baseless" and accused him of playing to his Sikh community's vote bank. It's worth noting that Sikhs constitute a significant portion of Canada's population, making up 2 percent of the total, while in India, they represent 1.7 percent. Trudeau's political alignment with this community raises eyebrows about the motivations behind his accusations.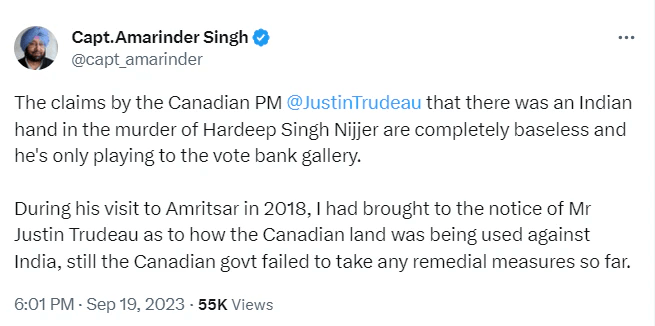 What adds complexity to this situation is the historical context. In 2018, during Trudeau's official visit to India, Amarinder Singh had raised the issue of Khalistani operatives allegedly operating from Canada. Trudeau had assured Singh that Canada did not support separatist movements and pledged to investigate the matter. Yet, now, Trudeau's actions seem to contradict those promises.
However, what's more perplexing is the stark contrast in Canada's response to the deaths of individuals with different backgrounds and affiliations. The case of Karima Baloch, a Baloch activist living in exile in Toronto, draws attention to this selective outrage. Baloch disappeared on December 20, 2020, and her lifeless body was discovered the next day under suspicious circumstances.
Baloch was a well-known human rights advocate and held the position of chairperson at the Baloch Students Organisation Azad. Her mysterious death raised concerns within the Canadian-based dissident Pakistani organizations, which pointed fingers at potential involvement by Pakistani authorities.
Despite the uproar and suspicions surrounding Baloch's death, the response from Canadian authorities was notably cold. Toronto's police department swiftly declared her death as "non-criminal," providing no further elaboration on the circumstances. This hasty conclusion stands in stark contrast to the detailed investigation demanded by the Canadian civil society and Baloch's supporters.
Baloch's husband, Hammal Haider, voiced concerns that foul play couldn't be ruled out and hinted at threats she had received in Pakistan prior to her exile in Canada. The circumstances surrounding her death remained shrouded in ambiguity.
It's impossible to ignore the disparities in how these two deaths were handled by Canada. While Trudeau raised the issue of Nijjar's death in the country's parliament, Baloch's death was seemingly brushed under the carpet. This inconsistency raises important questions about Canada's stance on justice and human rights.
The allegations surrounding Nijjar's death must be thoroughly investigated to ensure justice is served. However, the glaring disparity in Canada's response to similar incidents brings into question the country's commitment to upholding human rights and justice universally. As these events unfold, the world watches closely, hoping for a more balanced and equitable approach to addressing such issues, rather than just appeasing terrorists.
The opinions expressed in this article are those of the author. They do not purport to reflect the opinions or views of Khalsa Vox or its members.