Rahul Sharma, a former Home Guard jawan from Tewa in Kurukshetra district, recently returned to his homeland after enduring a harrowing ordeal in Libya. His traumatic journey, which lasted for two months, paints a grim picture of exploitation and despair. Rahul and 16 others had embarked on this perilous journey in search of better job opportunities in Italy, but their dreams turned into a nightmare.
Rahul, who had given up his Home Guard job to pursue the promise of a lucrative opportunity in Italy, expressed the horrors they faced: "I was promised a job in Italy, but all I went through was only torture, sleeplessness, death, disease, and trauma."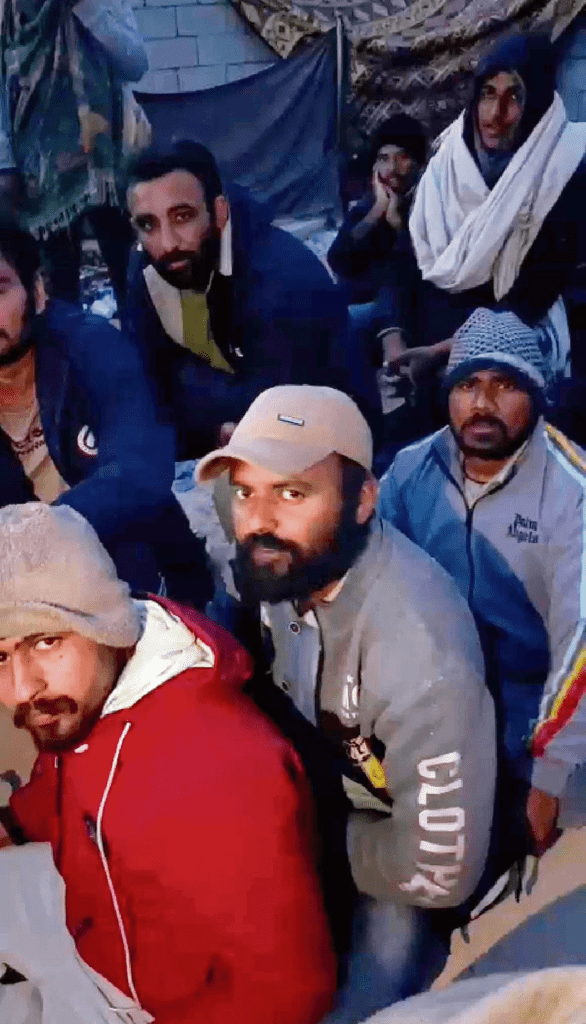 Their tragic tale began when they were lured by job offers from a Tewa-based agent named Madan Lal, who promised them monthly earnings of $2,000 in Italy. However, the reality was far from their expectations. Rahul reached Dubai on April 8, only to be taken to Benghazi in Libya instead of Italy. It became evident that they had been duped, as they discovered that no well-paying job awaited them in Italy or any other part of Europe.
Desperate to return home, Rahul found himself 'sold' to criminals in Zuwara, Libya. In their dire situation, they resorted to unconventional means of seeking help. Rahul managed to contact Member of Parliament Vikramjit Sahney over the Internet using a hidden phone. With Sahney's assistance, 11 of them escaped from their captivity in Zuwara, where they witnessed the presence of heavily armed individuals in the vicinity.
The men's plight took an unexpected turn when they were taken to a hotel by Indian Embassy representatives in Tunisia. However, their relief was short-lived as they were arrested during a police raid and subsequently imprisoned. After enduring further hardships, the embassy staff finally secured their release and facilitated their return to India.
Anmol Singh, one of the returnees, suffered extensive physical and psychological trauma. Anmol's sister, Ramandeep Kaur, revealed the extent of his suffering: "They (captors) always pulled him by his hair, but he refused to have his hair cut. He has sores and wounds all over his body. His liver and kidneys have been damaged, and his immunity is compromised due to months of starvation."
The survivors had little to eat and were reduced to fighting for scraps of bread thrown over the prison walls. Their living conditions were deplorable, forcing them to sleep in shifts in a cramped bathroom as there was not enough room for all of them to lie down.
Sadly, not all of those trapped in Libya were as fortunate as Rahul and his companions. Some were subjected to brutal treatment, and the story of Sukha Singh, whose hair was forcibly cut, serves as a stark reminder of the inhumanity they endured. Another inmate who attempted to escape from the jail suffered a severe spinal injury and was left to suffer a torturous death.
While Rahul and others have returned home, their ordeal highlights the urgent need for stricter regulations on agents promising overseas jobs. Vikramjit Singh Sahney, MP, emphasized the importance of taking action against unlicensed agents and preventing further tragedies: "Based on what these men have said, we believe that more individuals are stuck in horrible conditions. With no Indian embassy in Libya, we had to rely on our mission in Tunisia for assistance. We've urged India to enforce stricter agent regulation measures and have asked the police for stringent action against unlicensed agents."
The harrowing journey of Rahul Sharma and his fellow travelers is a stark reminder of the dangers that many Indians face when seeking opportunities abroad. It is a call to action for authorities to protect their citizens and ensure that unscrupulous agents are held accountable for their actions.