A disturbing incident unfolded in Jaranwala, an industrial town in the Faisalabad district of Pakistan, as a furious crowd, predominantly from the Muslim majority, targeted a Christian neighborhood. The rampage, triggered by allegations of blasphemy, resulted in the destruction of several buildings, including churches. This event once again highlights Pakistan's long-standing issue of persecuting religious minorities, extending beyond Sikhs to now encompass Christians.
The violence erupted when a young Christian boy was accused of desecrating the Quran, Islam's sacred text. As emotions flared, the mob unleashed havoc upon the Christian community, leaving a trail of damage in its wake. While precise details of the extent of losses remain undisclosed by Pakistani authorities, Christian leaders have reported significant harm to multiple churches and residences.
"So we are deeply concerned that churches and homes were targeted in response to reported Quran desecration in Pakistan. We support peaceful freedom of expression and the right to freedom of religion and belief for everybody. And as we have previously said, we are always concerned of incidents of religiously motivated violence," US State Department Principal Deputy Spokesperson Vedant Patel said at the state briefing. He added, "Violence or the threat of violence is never an acceptable form of expression, and we urge Pakistani authorities to conduct a full investigation into these allegations and call for calm for all of those involved".
Azad Marshall, moderator bishop of the Church of Pakistan, expressed his deep distress over the incident, stating, "Words fail me as I write this. We, Bishops, Priests, and lay people are deeply pained and distressed at the Jaranwala incident." Marshall's anguish resonates with the entire Christian community, which now lives under an ominous shadow of fear and uncertainty.
Regrettably, this incident is not an isolated one. Pakistan has a history of targeting religious minorities, and Sikhs have borne the brunt of such persecution for years. Now, with the focus shifting to Christians, it is crucial to acknowledge the urgent need for measures to protect all citizens, regardless of their religious beliefs.
The government's response has been mixed. Pakistan's caretaker Prime Minister, Anwaar-ul-Haq Kakar, vowed "stern action" against the perpetrators. "All law enforcement has been asked to apprehend culprits and bring them to justice," Kakar stated, adding that the government stands with all citizens.
Akmal Bhatti, the head of Minorities Alliance Pakistan, lamented the situation, revealing that the crowd had not only set fire to churches but had also looted valuables from abandoned homes. Bhatti criticized the insufficient security measures provided to the Christian colony, emphasizing the heart-wrenching pain caused by the desecration of churches.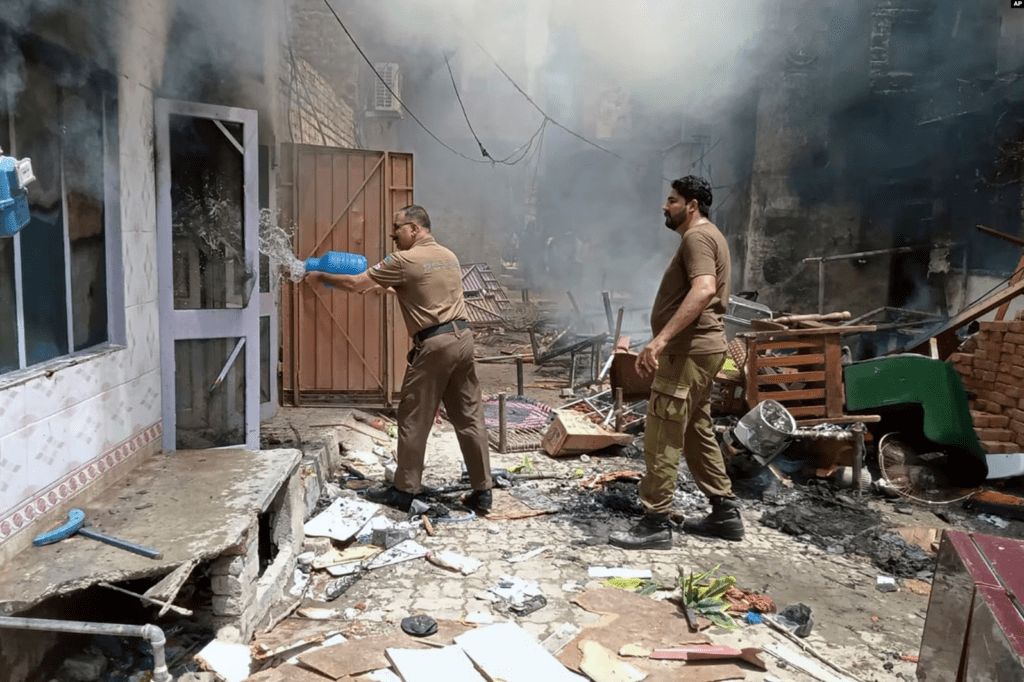 The incident has prompted international condemnation, with the independent Human Rights Commission of Pakistan condemning the attack and accusing the government of failing to safeguard the country's religious minorities. This incident once again underscores the critical need for reforming the blasphemy laws in Pakistan, which have long been criticized for being misused to settle personal scores.
Blasphemy is a deeply sensitive issue in Pakistan, and allegations have often led to violence and even lynching of suspects. The country's blasphemy laws are stringent, with insults to the Quran or Islamic beliefs punishable by death. However, despite these laws, no one has ever been executed for blasphemy.
Civil society organizations, including those in the United States, have highlighted the flaws in Pakistan's legal system when it comes to blasphemy-related cases. The misuse of these laws disproportionately affects religious minorities, who often find themselves imprisoned for years before their convictions are eventually overturned or their release is ordered.
In a world where diversity and religious coexistence are paramount, the incident in Jaranwala serves as a harsh reminder that there is much work to be done to ensure the safety and well-being of religious minorities in Pakistan and beyond. It is imperative that the government take swift and decisive action to bring those responsible to justice, protect the rights of its citizens, and foster an environment of tolerance and understanding.