In a tragic display of negligence, an important Sikh shrine, the Gurdwara Sahib located in Daftu village of Lalyani town (Lahore-Ferozpur road) in Punjab's Kasur district, has fallen victim to Pakistan's disregard for its historical and cultural heritage. The once glorious Gurdwara, known for its significance in Sikh history, is now slowly collapsing, with the recent collapse of its front wall and Darshani Deori due to heavy rains in the area on July 27th.
The deterioration of this historic Gurdwara is primarily attributed to the sheer neglect by Pakistan's Evacuee Trust Property Board (ETPB) and the Pakistan Sikh Gurdwara Parbandhak Committee (PSGPC), the supreme Sikh body in the country. The gradual decay of the Gurdwara's structural integrity was exacerbated by the lack of timely maintenance and care, rendering it vulnerable to the forces of nature.
The Gurdwara Sahib holds immense significance in Sikh history, as it was the place where Baba Bullhe Shah sought refuge after being banished from his village by the ruling Chaudhris of Pandoki. This historical association makes the Gurdwara not only a place of worship but also a symbol of cultural heritage that deserves utmost preservation and respect.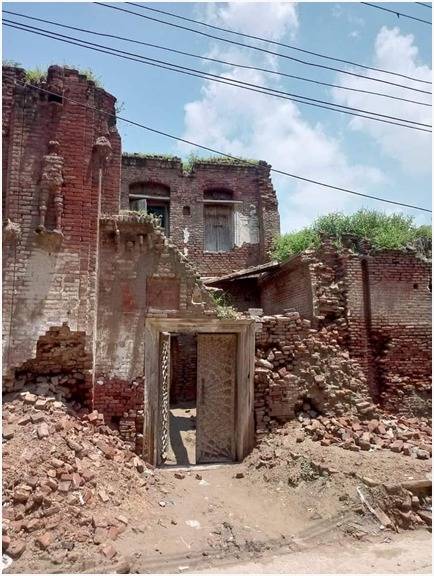 Over the years, the state's neglect has allowed the Gurdwara's infrastructure to weaken, with minimal or no steps taken to address the building's vulnerabilities. Despite being a sacred place for the Sikh community, it appears that the authorities have not prioritized its maintenance and protection, leading to this unfortunate loss.
The collapse of the Gurdwara's front wall and Darshani Deori under the weight of heavy rainfall is a clear testament to the consequences of neglect. It is distressing to witness such a historically significant site crumbling away due to the apathy of those responsible for its upkeep.
The Sikh community both within Pakistan and around the world has expressed dismay and anguish at the continued negligence that has led to the deterioration of their cultural heritage. Calls for immediate action to address this issue have been made, urging the Pakistani government and relevant authorities to take swift measures to restore and preserve the Gurdwara Sahib and other historical sites of religious importance.
Preserving the Gurdwara Sahib is not only a matter of religious significance but also a responsibility towards protecting the rich historical fabric of Pakistan. Neglecting such important landmarks erodes the nation's cultural identity and deprives future generations of a tangible link to their past.