The Khalistan movement, which raged in Punjab during the 1980s and early 1990s, is frequently associated with its political aspirations and the violence that came to characterize it. While history often focuses on these, there remains an untold story – the silent suffering of women caught in the crossfire.
A recently resurfaced news clipping from 1991 lays bare the anguish endured by women during this tumultuous period. The article, which made waves across Punjabi newspapers, carries an emotional appeal from a young Sikh woman named Ranjit Kaur. Her letter is a testament to the agonies many Punjabi families, especially women, underwent at the hands of the very groups that claimed to fight for their rights.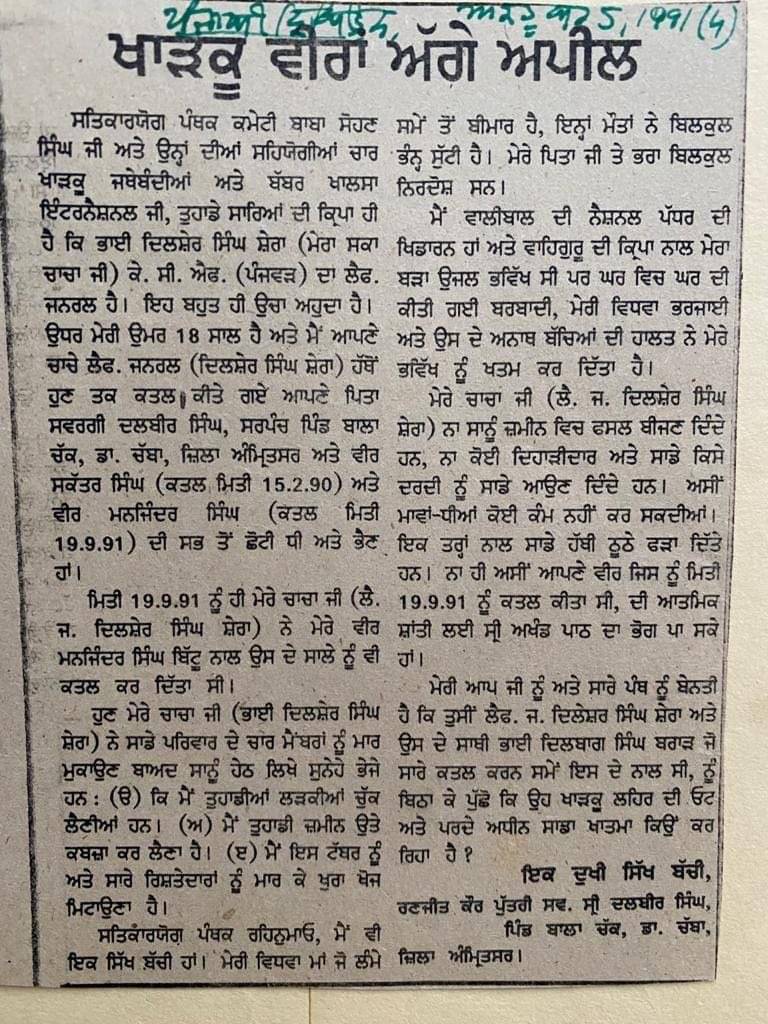 Ranjit's story is heart-wrenching. At the age of 18, she bore witness to the tragic murders of her father and two brothers, victims of the very movement that promised them liberation. The prime perpetrator? Her own uncle, a high-ranking figure within the Khalistani militant framework.
At present, my revered uncle (Bhai Dilsher Singh Shera), responsible for extinguishing the lives of four family members, has conveyed the following threats: a) The abduction of our womenfolk. b) The seizure of our ancestral land. c) The obliteration of our family and its lineage.

Excerpt from the translation of Ranjit Kaur's appeal
Her tale reveals the murky side of such movements, where personal vendettas were sometimes obscured under the larger umbrella of militancy. The murder of Ranjit's father, a respected Sarpanch, and her two brothers, one as recent as 1991, have left scars that time might never heal.
But it wasn't just the loss of family members that was distressing. The repercussions extended to a realm more sinister. Threats of abduction of the women in the family, confiscation of ancestral land, and the potential extermination of their lineage became chilling reminders of their precarious existence.
For Ranjit, a once-promising national-level volleyball player, the trauma compounded. The dreamy aspirations she held for her future were crushed beneath the weight of the tragic losses her family endured. The once vibrant young sportswoman now found herself grappling with the responsibility of her widowed sisters-in-law and orphaned nieces and nephews.
Her narrative exposes the grim reality of countless women during that era. Stripped of male family members, their protectors in the socio-cultural context of the times, they grappled with threats, socioeconomic challenges, and the daunting task of rebuilding their broken homes.
Ranjit Kaur's appeal serves as a poignant reminder that the casualties of any political or violent upheaval are often those who have no stake in the conflict. Women, children, and families find themselves ensnared in a web of chaos and violence, left with scars that linger for generations. As we remember the Khalistan movement, it's crucial to remember stories like Ranjit's – a testament to the resilience of women who endured, rebuilt, and continued, even in the face of unfathomable adversity.