I love Indian food – it's my favourite cuisine. I love the mixture of spices and the subtle flavours. It's really erotic; the spices are so sensuous.

Joe Perry
When it comes to global food preferences, Indian food is topping the charts. It's not just about "masalas" anymore as people worldwide are recognizing the vast array of flavours available. Indian Cuisine has ranked fifth position in the 'Best Cuisines in the World' for 2022, according to Bulgarian Travel |Guide, Taste Atlas. And guess the eighth most popular dish across the world? It's none other than our very own 'Chicken Tikka Masala'!! So, a Punjabi dish wins hearts yet again!
Moving ahead with our food trail, with reference to Punjabi chefs, today we talk about Ranveer Bras and Harpal Singh Sokhi.
Ranveer Brar
'Ghee' and 'Dhaniya' are Ranveer Brar's must-have ingredients. Being a Punjabi, his love for 'Ghee' or clarified butter is understandable. He feels that coriander not just makes a pretty garnish but has superb flavour and health benefits. Brar stresses that there is a reason behind every ingredient and technique used in Indian recipes and if these basics are learned before playing with the flavours and textures, one can never go wrong.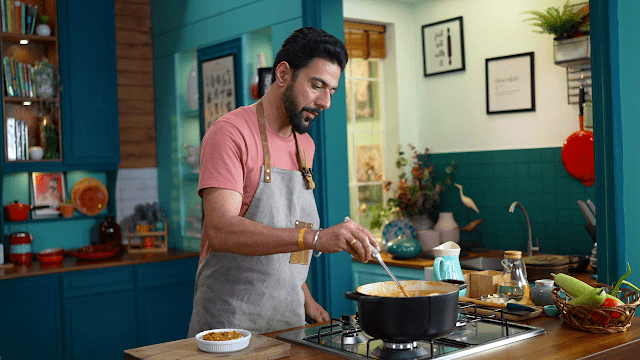 Ranveer Brar is the youngest executive Chef to have worked with a five-star hotel in India. At 25 years of age, he began creating luxury menus for luxury restaurants. From spending his childhood in 'Gurudwara Langars' and 'Galis' of Lucknow, Chef Ranveer Brar has put India on the global culinary map.
A true Punjabi at heart, his go-to dishes are 'Khichadi' and 'Panjeeri'. He feels that co-existing with nature leads to a holistically healthy ecosystem, that is the reason he prefers to cook with indigenous ingredients and experiment with zero-waste recipes. Ranveer has had good innings on television doing shows like 'The Great Indian Rasoi', 'Breakfast Express', 'Snack Attack', and Station Master's Tiffins' for which he had to travel to various parts of India by train. He has been a judge of MasterChef India for several seasons now and owns five restaurants in Boston and some in India.
This dynamic chef is not satisfied with just being the poster boy of Indian cuisine. He takes his responsibility very seriously and aims to revive native grains. In 2018, he worked with farmers who cultivated black soybean, a traditional grain legume consumed in northern India. He is also working with farmer-producer groups to revive some rice varieties which are presumed to be lost.
Brar says, "If I've taken the journey and I have a voice, and people listen to me, then I have to be able to say the right thing and be at the right place at the right time. All this comes with a responsibility to deliver and make a difference in people's lives. And you've got to deliver that responsibility with sincerity!"
Harpal Singh Sokhi
Popularly known as 'Energy Chef' and 'Dancing Chef', this humorous and fun-loving Chef pours his heart into cooking. His jingle "namak shamak dal dete hain" has made home cooking so ethereal that even something as basic as seasoning your food with salt feels like magic! His culinary shows 'Turban Tadka', 'Sirf Tees Minute', and 'India ka Superchef', etc. are legendary. He takes a keen interest in an extensive study of the science of food and is researching on 'Ayurveda' with regard to food.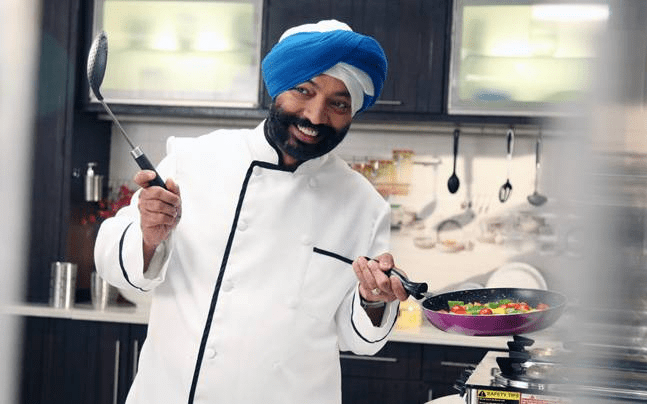 He staunchly believes in the initiative of 2023 as 'The International Year of Millets' and feels that a blend of ancient science and wisdom plus healthy ingredients can bring about a massive change in food. Being born a Sikh, his love for food is understandable and relatable. His penchant for food was evident from childhood when he helped his mother in the kitchen, he loved cooking with her. As he took up culinary arts as a profession, he was led to Hyderabad where he approached venerated chefs like Begham Mumtaz Khan and Ustad Habib Pasha to teach him traditional Hyderabadi cuisine. He fondly recalls that learning with these two veterans changed his perspective on Indian cuisine and he learned to create the light blend of spices and herbs which is intrinsic to Indian cooking.
Harpal Singh says, "I believe that cooking should be a fun process. If you cook with a positive attitude, the food is automatically tasty". He goes on to explain that just like we need exercise to keep our body fit, we need happiness for our mental fitness and there is no other source of happiness than good food. That is spoken like a true Punjabi!!
Over the years this chef has worked tirelessly and created a signature fusion style where he beautifully merges traditional Indian food with international cuisine. His signature dishes, 'Oreo Pakoda' and 'Butter Chicken Poutine' are Sparking examples of such amalgamations. He says, "Fusion food is born out of a culinary technique that combines 'desi tadka' with international cuisine. I think fusion food can never be boring; there will always be something interesting that will come out of combining two cuisines."
Chef Harpal wears many hats; he is an accomplished businessman owning various food outlets, restaurants, and brands. In the future, he aims at reaching out globally and spreading out Indian cuisine to all corners of the world.