In the tranquil lanes of Canada, a disturbing narrative is unfolding. Roadside signs and posters with violence-inciting content have cropped up, perturbing the peaceful coexistence of the country's diverse communities. These signs aren't merely inflammatory; they pronounce a locale as a "war zone." These symbols of incitement, a kilometer north of Malton Gurdawara, beg the question: Are Malton, or even Canada as a whole, war zones?
The disturbing trail of this narrative leads back to the Khalistan separatist extremists who have been orchestrating a campaign of divisiveness in the peaceful environs of Canada.
A temple in the Greater Toronto Area (GTA) recently had the unpleasant surprise of a poster targeting Indian diplomats in Canada. Notably, this act was the first instance of the controversial anti-India poster from the secessionist group Sikhs for Justice (SFJ) appearing physically, having previously circulated only online. This brazen act only adds to the growing list of temple desecrations over recent months.
The poster featuring the images of Indian High Commissioner and Consul Generals in Canada was found outside the Bharat Mata Mandir in Brampton, chillingly accompanied by the words "Faces of Shaheed Nijjar's Killers in Canada" and the ominous term "War Zone."
In response to the rising tensions, Indo-Canadians have planned a peaceful rally at the Indian Consulate in Toronto, an organic counter-movement against the Khalistan Freedom Rally. A group of concerned citizens, irrespective of any specific organization, are leading the charge.
Virender Singh, a Toronto resident participating in the march, puts it succinctly, "We are a group of concerned citizens of Indo-Canadian heritage. We believe that Canadian values do not align with the threats to Indian diplomats."
This situation poses a grave question to Canadian authorities: Are they overlooking a potentially disruptive element under the guise of peaceful dissent? As Arvind Mishra from Brampton puts it, "What would they do if people held rallies under the banner of Al Qaeda or ISIS with posters of Osama bin Laden or the ISIS chief?"
The reason why the Canadian government looks the other way when it comes to Khalistani separatist elements is that the Sikh diaspora lives in key electoral areas known as "swing ridings" such as Toronto, British Columbia, and Ontario. The UK's Surrey, home to a large Sikh population, has also traditionally been a closely fought election.
As for the main "threat", it seems to emanate from Canada and the UK.
"The UK and Canada are home to the two largest Sikh diasporas in the world who mostly live in key electoral areas like UK's Southall and Canada's Surrey or British Columbia. They're a vote bank for politicians," says Ajai Sahni, Director of Institute of Conflict Studies who also runs Khalistan Extremist Monitor.
The surging wave of Khalistan extremist activity threatens not only India but the fabric of Canadian society. These attempts to turn peaceful streets into declared war zones and to incite violence against diplomats undermine the values of peace and unity that Canada holds dear.
It is, however, crucial to remember that this extremist campaign is a far cry from commanding any significant public support. This point was underscored when the Khalistan Freedom Rally, organized in London, attracted a paltry crowd of just 30 participants.
The situation was no different in Canada, where only a handful of protestors showed up.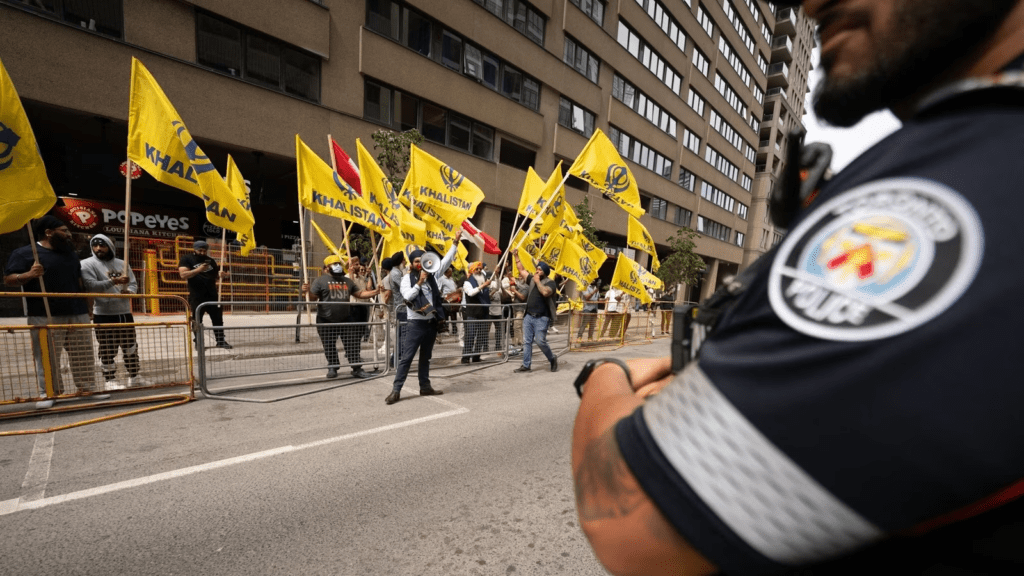 This lack of support is a clear indication that the Khalistan movement doesn't resonate with the majority of Sikhs, let alone the wider population, either in India or abroad. Rather, it is just a handful of individuals who are causing a nuisance not only for India but also for their host countries, such as Canada, the United States, the United Kingdom, and Australia. Their tactics, aimed at generating controversy and inciting discord, are overwhelmingly rejected by communities who value peaceful coexistence and mutual respect.
It is time for a collective stand against this form of extremism, as it holds the potential to poison the diverse and harmonious society that Canada strives to cultivate. A war zone is not the face of Malton, GTA, or Canada. The true spirit of these places lies in their rich diversity, multiculturalism, and harmonious coexistence. The Trudeau government must not allow extremism to overshadow these values. They must now not allow a handful of separatists to disturb peace in Canada.