Nawanpind Sardaran Village, Punjab – In a remarkable recognition of its cultural heritage and architectural splendor, Nawanpind Sardaran village, located on the banks of the UBDC canal, has been bestowed with the coveted 'Best Tourism Award' by the Union Ministry of Tourism. This prestigious accolade was presented today at Pragati Maidan, marking a momentous occasion for this quaint village, which has been quietly preserving its 125-year-old havelis (ancestral homes) with utmost care and dedication.
The spotlight first shone on Nawanpind Sardaran village in 2019 when Bollywood actor Sunny Deol expressed a keen interest in staying here during his election campaign. Initially intended to be a brief visit of just two days, Deol and his entourage found themselves captivated by the charm and character of the havelis, extending their stay for nearly two months. Joining them were other renowned Bollywood personalities, including Deol's father, Dharmendra, who couldn't help but sing praises of the village. Such was the allure of the havelis that a filmmaker even hinted at the possibility of crafting a cinematic tribute to these architectural gems.
The 'Best Tourism Award' is a testament to the tireless efforts of the Sangha sisters, who have been diligently maintaining these historic havelis. Out of 750 villages from 31 states and union territories that vied for the award, only 35 made the shortlist, with Nawanpind Sardaran emerging as the undisputed champion. These select villages were recognized for their exemplary collaboration with the Tourism Department in preserving their heritage.
The story of Nawanpind Sardaran's havelis, namely 'The Kothi' and 'The Pipal Haveli,' dates back 125 years when they were first constructed by a family led by Sardar Narian Singh. His legacy was carried forward by his son, Sardar Bahadur Beant Singh, who also founded cooperative societies in Punjab. Today, these havelis continue to be a draw for both domestic and international tourists.
After Sardar Narian Singh, the responsibility for preserving these ancestral homes fell into the capable hands of former Indian Air Force officer Gupreet Singh Sangha and his wife Satwant Sangha. Presently, it's the Sangha sisters who lovingly oversee the havelis, ensuring that their walls resonate with the echoes of history.
Gursimran Sangha, one of the five sisters, expressed her elation, stating, "Our hard work has finally been recognized by the Union government. It is a red-letter day for my family." The award was conferred upon Satwant Sangha by Secretary (Tourism) V Vidyavathi and Additional Secretary (Tourism) Rakesh Verma. Also in attendance were Punjab's Secretary (Tourism) Rakhee Bhandari and Gurdaspur District Collector Himamshu Aggarwal.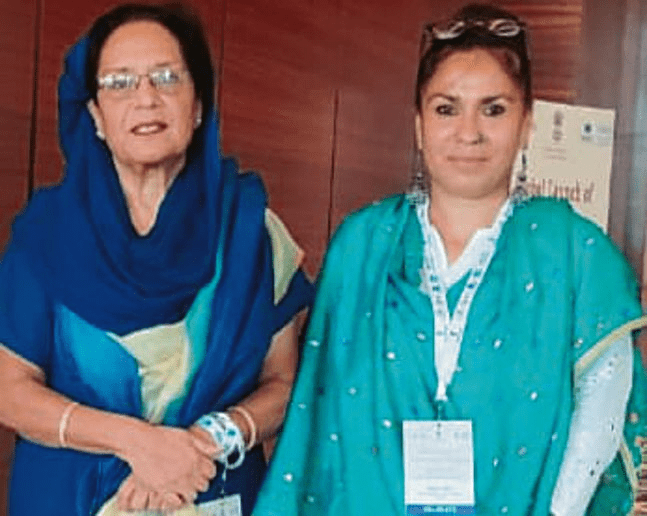 In the words of Gursimran, "The main thing about living in a 125-year-old house is that its walls are alive. Our havelis do not belong to people, people belong to them."
This accolade not only honors Nawanpind Sardaran village but also underscores the vital role played by the Sangha sisters in preserving their havelis, which have now become a cherished heritage for all to admire and appreciate.